Please help us with Official Student Count Day
Douglas County's Official Pupil Count Day is Friday, Oct. 1. The count window lasts for five days prior to October 1 and five days after October 1. Please be sure to have your student in attendance for the full day whether it be in person or virtual. If possible, we ask that you avoid scheduling any appointments for your student on that day. We want to have all of our students present and counted. This will affect the overall funding for our school. We appreciate your help!
Donation and Volunteer Opportunities
Volunteering and giving to STEM are vital to the success of our school. Our school has a charter that requires a commitment of 30 volunteer hours per family (15 hours per single-parent family).
To make volunteering easy and seamless, please refer to the Volunteering Basics section that will allow you to set up your volunteer account and keep track of your hours. We are extremely grateful for the time and energy donated by STEM parents each year.
Volunteer Opportunitities
Driveline (Earn Double Volunteer Hours):
Parent supervisors needed during AM & PM Driveline! sign up here. Arrive 5 minutes early to find parking and grab a vest. Extra incentive: Earn double hours ie: log 60 hours in Driveline. (that's 30 actual volunteer hours). Click here to sign up.
Lunchroom Volunteers:
Spartan Afternoon Program:
A great way to avoid waiting in the afternoon drive-line, and maybe even take your own child home with homework complete. This opportunity is after school and only requires volunteers to monitor students (no tutoring involved). If you are interested, please click here.
TSA Volunteers
To volunteer for TSA or to provide snacks please click here.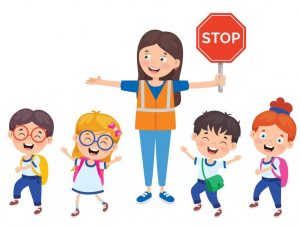 Lost and Found Coordinator
We're seeking a Coordinator for our Elementary and Secondary Lost and Found. The coordinator would need to:
Tidy lost and found as needed
Help get Elementary items with names on them back to their owners (coordinate with Volunteer Coordinator)
Organize remaining items to get them ready for donation (at school breaks)
Have questions? Email volunteer@stemk12.org. Want to sign-up to be the coordinator? Click here.
Elementary Library Organizer
We are in need of at least (2) volunteers to help organize the ES Library for possibly a couple of days. Mornings, after the driveline, would be the ideal time, about 8-9 a.m. starting time. Volunteers will need to be able to use an iPad with an app (provided by us) to scan books and organize them by reading levels to be shelved in our "library". If you are interested, contact Mona Loptien (mona.loptien@stemk12.org).
Lego Organizer
We are looking for parent volunteers to help organize all of our Lego materials. Please contact Michelle Gasser (michelle.gasser@stemk12.org) if you are interested.
Volunteer of the Month
Our volunteer of the Month for September is Terri Irish with 68 logged hours to date. Terri's dedication to the Drive-Line is amazing, and we are more than grateful. Thank you Terri!!!
Classroom Wishlists
Teachers always need additional supplies throughout the year in order to enhance their students' experiences. Consider making a donation to a teacher's classroom by getting something off their Wish List. You can view all of our teachers' wishlists on our Parent Get Involved page, or by clicking the button below.
School Donations
Both our Elementary and Secondary Offices are always in need of donated items. Click the button below to see what we need and to sign up. Please bring the items to the appropriate front office with a label for what it is for.
STEM PTO's STEMGives Campaign starts October 4
October 4 through December 7
STEMGives! is your opportunity to support your school, teachers, students and staff! Your donations help the STEM PTO to provide money directly to the school for teacher and school grants/requests and fund the STEM PTO's activities, fundraisers and events. The campaign will run from October 4 through December 7 and all donations can be made online or via check.
WAYS TO GIVE:
The PTO will be accepting online donations through Colorado Gives at the link below. Colorado Gives is an online donation site that accepts credit cards, debit cards and bank account transfers. Donations can be made one time or recurring/monthly. $200/family or $20/month will make a great impact!
Donors can also pay by check. Checks should be made out to STEM PTO (write STEM Gives! in the memo) and delivered to the STEM Middle School office. Checks can also be mailed to the STEM Middle School Office at:
STEM School Highlands Ranch
℅ STEM PTO Treasurer
8773 S Ridgeline Blvd
Highlands Ranch, CO 80129
STEM Board of Director's Monthly Board Meeting
Tuesday, Oct. 5, from 5:30-7 p.m. – High School Commons
The monthly STEM Board of Directo's Meeting will be held on Tuesday, Oct. 5 in the High School Commons. Currently, there is no streaming option available. The STEM Board of Directors values community input at each of its Board Meetings via Public Comment. Members of our STEM community (staff, students, parents and community members) are invited to speak during the Public Comment portion of the agenda. This is the time to voice opinions and provide feedback about specific agenda item(s) prior to any Board action. Speakers must complete the Public Comment Form and submit it electronically no later than 12 p.m. the day of each Board meeting.
School Picture Retakes
Families can access their photos by visiting the link below or going to dr-photo.com, selecting the School Portrait Proofs link, and when prompted enter their private password in the following format: Student ID#
Friday, Oct. 8 – Photo Retake Day
Elementary students will go in small groups with their homeroom teacher.

Parents MUST sign their Elementary student up for retakes (so that you know which students will need to go down with an EA to have their picture taken)

Secondary students will go during their study hall.

If a student does NOT have a study hall, they can get their photo during their lunch break.
For virtual students, appointments will be available Tuesdays and Thursdays from 10 a.m.-1 p.m. from September 14 – October 21. Click the link to the right to schedule your appointment.
Parent-Teacher Conferences
Week of October 11-15
Elementary Parent-Teacher Conferences will take place the week of October 11-15. Your student's teacher will communicate out their schedule with sign-ups to parents. Each sessions is set for 10-15 minutes and students can attend.
Water Fountains now Water Bottle Filling Stations
In an effort to minimize the spread of germs the ES & MS water fountains will be water bottle filling stations only. Please remind your students to bring a water bottle (labeled with their name).
Elementary Yearbooks are Now on Sale!
Click the button below to access the prepayment site for the Elementary Yearbook. Soft Cover books are $20 and Hard Cover books are $30.
Important News
Reminder on Early Dismissals
Students will need to be signed out by a parent at the respective office (Elementary or Secondary). The steps below outline the steps to follow in order to cause the least amount of disruption to the classroom:
Secondary:

Pick your student up during the passing period. (Secondary)
Send a signed note in with your Secondary student to receive an Early Dismissal Pass from the front office (students will be able to show this to their teacher before class begins, and leave at the appropriate time).

Elementary:

Call ahead to the Front Office so that they are aware that you are coming.
Elementary students will be released upon the arrival of their parents.
NO unscheduled early pickups are allowed after 1:15 p.m. This is to minimize disruption to the last period of the day. Additionally, for Elementary, please avoid picking up your student after 2 p.m. so that you are not impeding the Elementary Driveline. For Secondary, please avoid picking up your student after 2:30 p.m. so that you are not impeding the Secondary Driveline.
Reminder of School Start Times and Tardies
Reminder Elementary Families! Our first bell of the day rings at 7:30 a.m. Students have 10 minutes to get to class before they are marked tardy after the 7:40 a.m. tardy bell. Students who arrive after 7:40 a.m. will be marked as Unexcused Tardy.  In order to accommodate the extra families that joined STEM this year with the addition of some grade-level classes, we have begun opening car doors at 7:10 a.m. for unloading. Any students who arrive at 7:50 a.m. or later will need to be signed in by a parent. You will need to park and bring your student inside.
Resources and News from DCSD
Mental Health Resource of the Week
The Role of Play in the Post-Pandemic Healing
How can you help your child disconnect from the world and reconnect with the real one? This article from Psychology Today shows how you can help reawaken your child's sense of playfulness.
Literacy Resource of the Week
Find Your Book – Read Across America
If you don't know what book you and/or your child should read, check out this helpful tool from Read Across America! Search by reading level, theme and genre to find your child's next literary adventure.
Total Wellness Resources of the Week
Healthy Meal Planning
Get the kids involved in the meal planning! Ask them to choose and help cook healthy meals. Or challenge them to choose, shop and cook an entire healthy meal for a certain dollar amount – with the offer that they can keep any money not spent for themselves. They'll learn meal planning, budgeting and cooking – all great life lessons!
DCSD Parent University
How Parents Can Support Psychological and Physical Safety in Schools (In-Partnership with Sky Ridge Medical Center)
Wednesday, Oct. 27 | 5-5:45 p.m. – Online
Join DCSD Director of Mental Health, Dr. Stephanie Crawford-Goetz, and DCSD Director of Safety and Security, Jonny Grusing, for an overview of district safety procedures. They will discuss the ways safety drills like the Standard Response Protocol (SRP) are done with psychological safety in mind. They will also cover methods and procedures for suicide safety and threat assessment in schools. Finally, you will walk away knowing how parents are vital in contributing to a culture of safety, security and well-being.
Learn how to answer these questions in a special 30-minute webinar with Dr. Katrina Iverson, Pediatric Emergency Medicine Director at Sky Ridge Medical Center. She will guide you on how vaping impacts a young person's health, how it affects the broader community, and what you can do to make a difference today. Plus, learn how vaping can affect COVID-19 infections and other respiratory issues. The presentation will be followed by 15 minutes of Q&A.