Donation and Volunteer Opportunities
Volunteering and giving to STEM are vital to the success of our school. Our school has a charter that requires a commitment of 30 volunteer hours per family (15 hours per single-parent family).
To make volunteering easy and seamless, please refer to the Volunteering Basics section that will allow you to set up your volunteer account and keep track of your hours. We are extremely grateful for the time and energy donated by STEM parents each year.
Volunteer Opportunitities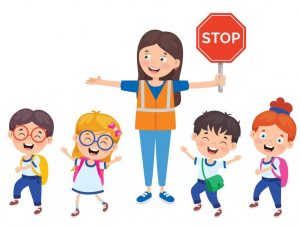 Driveline (Earn Double Volunteer Hours):
Parent supervisors needed during AM & PM Driveline! sign up here. Arrive 5 minutes early to find parking and grab a vest. Extra incentive: Earn double hours ie: log 60 hours in Driveline. (that's 30 actual volunteer hours). Click here to sign up.
Lunchroom Volunteers:
Spartan Afternoon Program:
A great way to avoid waiting in the afternoon drive-line, and maybe even take your own child home with homework complete. This opportunity is after school and only requires volunteers to monitor students (no tutoring involved). If you are interested, please click here.
TSA Volunteers
To volunteer for TSA or to provide snacks please click here.
Volunteer of the Month
A big thank you to Suzanne/Doug Savolainen, our volunteer of the Month for August. Doug has already given 22 hours to our BEST Robotics team.
We appreciate your time so much Suzanne & Doug!
Classroom Wishlists
Teachers always need additional supplies throughout the year in order to enhance their students' experiences. Consider making a donation to a teacher's classroom by getting something off their Wish List. You can view all of our teachers' wishlists on our Parent Get Involved page, or by clicking the button below.
Gift Card Donation Request for Staff Prizes
If you're looking for a way to give to STEM, consider donating gift cards for our Staff Prizes. Gift Cards in $5 increments are great for us to use to gift out when we do staff recognitions and games. Please drop gift cards off at either the Elementary or the Secondary Front Office and label it "Staff Prizes." Thank you!
Chess Club Donations
Consider donating to our Chess Club. The group would benefit from having some good tournament sets with clocks. These are the tournament sets we would like to have, with blue and buff boards, black and white pieces and a blue clock. Click the link below to sign up.
School Donations
Both our Elementary and Secondary Offices are always in need of donated items. Click the button below to see what we need and to sign up. Please bring the items to the appropriate front office with a label for what it is for.
School Picture Retakes
Families can access their photos by visiting the link below or going to dr-photo.com, selecting the School Portrait Proofs link, and when prompted enter their private password in the following format: Student ID#
Friday, Oct. 8 – Photo Retake Day
Elementary students will go in small groups with their homeroom teacher.
Secondary students will go during their study hall.

If a student does NOT have a study hall, they can get their photo during their lunch break.
For virtual students, there will be an opportunity to have their photos taken at our photographer's studio beginning in September until Thanksgiving. There will be a link to sign up.
Drinking Fountains Shut-Off Temporarily; Water Bottle Filling Station Still Active
Attention all families! Due to the increase in COVID cases, we have had to turn off the drinking fountains within the school building. Please have your student bring a water bottle to school and use the Water Bottle Filling Fountain that is located right next to the drinking fountain. Thank you for your understanding.
Models Needed for SpartMart Gear
Attention #STEM Spartans! We are seeking volunteer models for SpartMart. Selected participants will get to keep the product they are modelling. If you are interested, please have a parent fill out the form below. Participants will receive a confirmation email from SpartMart with the date and time.
Check out the newest Clubs and Activities in our Enrichment Programming
We have so many offerings for our students to get involved in clubs and activities at STEM. Click the button below to see all of our offerings. Don't see something that interests your student? Email Mrs. Sara Phelps (sara.phelps@stemk12.org) to see if that club could be added.
Here are the latest Elementary School Clubs that have been added:
Join the STEM Elementary Team
We're hiring! We need Instructional and Educational Assistants to join our Elementary Staff for the 2021-22 School Year. Click the button below to find out more about each position. We've also got an opening in our Secondary School. Click the button below to see all of our job openings.
How to apply
Application Note, you will need to download this application form, fill it in and save it locally to your computer, then return it via email with the following items:
Cover Letter
Resume
References
Important News
Reminder on Early Dismissals
Students will need to be signed out by a parent at the respective office (Elementary or Secondary). The steps below outline the steps to follow in order to cause the least amount of disruption to the classroom:
Secondary:

Pick your student up during the passing period. (Secondary)
Send a signed note in with your Secondary student to receive an Early Dismissal Pass from the front office (students will be able to show this to their teacher before class begins, and leave at the appropriate time).

Elementary:

Call ahead to the Front Office so that they are aware that you are coming.
Elementary students will be released upon the arrival of their parents.
NO unscheduled early pickups are allowed after 1:15 p.m. This is to minimize disruption to the last period of the day. Additionally, for Elementary, please avoid picking up your student after 2 p.m. so that you are not impeding the Elementary Driveline. For Secondary, please avoid picking up your student after 2:30 p.m. so that you are not impeding the Secondary Driveline.
Whatever you are going through, AllHealth is here to help
AllHealth Network offers mental health services for students and families onsite at STEM School Highlands Ranch with a licensed professional counselor, Kathleen Shook. Kathleen uses evidence-based treatment approaches to talk and play with kids of all ages to help them with anxiety, depression, trauma, and adjusting to life's changes. Sessions happen during school hours for your convenience and most insurances are accepted.
Additionally, AllHealth Network offers free services such as counseling, support groups and opportunities for social connection to students, families, and community members affected by May 7th at the STEM Center for Strength located at 640 Plaza Dr., Suite 130.
To get connected to any of the services AllHealth has to offer, contact Kathleen at 720-462-9645 or the STEM Center at 720-980-5761.
Elementary Yearbooks are Now on Sale!
Click the button below to access the prepayment site for the Elementary Yearbook. Soft Cover books are $20 and Hard Cover books are $30.
Resources and News from DCSD
Mental Health Resource of the Week
#BreakTheStigma: 14 Nonfiction Mental Health Books for Children, Tweens, and Teens
These nonfiction titles offer a great jumping-off point for elementary, middle, and high school readers. These works include personal essay collections, educated guides, informative picture books, and workbooks.
Literacy Resource of the Week
Helping Children Build Language Skills
You can help children develop their language abilities by tuning in to what they say and responding in ways that result in more talk.
Keep the Calm at Home
Parent Support Group
Parenting During the Pandemic. Free Interactive Zoom Discussion Group Hosted by AllHealth Network.
DCSD Parent University
Youth Vaping: Recognition, Prevention, and Intervention
Wednesday, September 29 | 5:30 p.m. – 6:15 p.m.
Teens may think e-cigarettes are safer than traditional tobacco products, but research links vaping to health and behavioral risks that can affect a young person for years to come. Would you recognize if your child began vaping? Would you know how to prevent e-cigarette use? How would you intervene if your child is already vaping?
Learn how to answer these questions in a special 30-minute webinar with Dr. Katrina Iverson, Pediatric Emergency Medicine Director at Sky Ridge Medical Center. She will guide you on how vaping impacts a young person's health, how it affects the broader community, and what you can do to make a difference today. Plus, learn how vaping can affect COVID-19 infections and other respiratory issues. The presentation will be followed by 15 minutes of Q&A.