Dr. Johnson draws names for STEM bonus holiday gifts
Dr. Johnson played the role of Mrs. Claus this week as she drew numbers for STEM's bonus gift raffle drawing. Dozens of gifts were donated by vendors and some lucky STEM employees had their names called for a random mystery gift!
Thank you to all of our vendors for the generous donations and for helping spread holiday cheer to our hard working staff!
STEM Elementary students hunt down the gingerbread man with the help of Deputy Gabe
Where is the gingerbread man?!
STEM Elementary students went on quite the hunt around the school, searching for that elusive gingerbread man. They had to follow clues along the way, interview staff and do some investigative work.
Eventually, they found Deputy Gabe in the Elementary lobby where he revealed that he had captured the gingerbread man! Deputy Gabe then handed over the gingerbread man to the students, who was then sentenced to assist with other cookie related creations!
STEM students are in the top 10 for high schools in Colorado for Snap-on meter certifications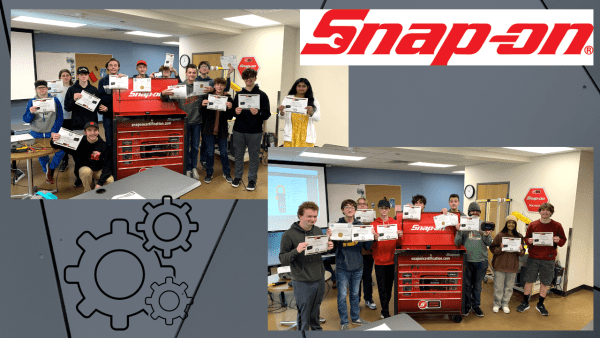 Wow, look at all of those certifications!
Over 30 STEM students received their Snap-on Tools Meter Certification 525F. That means they have demonstrated competency in a number of areas including test lead inspection, AC/DC measuring voltage, measuring amperage and resistance, electrical calculations, proper fuse replacement and much more.
Here's the real kicker…according to NC3 (National Coalition of Certification Centers), STEM is in the top 10 for high schools in Colorado for the number of students achieving multimeter certifications!
Additionally, over a dozen STEM students received their Three Phase Sequencing and Motor Rotation certifications from Greenlee (Green Apple Labs) which includes competency in electrical meter basics, measuring currents, phase sequence and motor rotation.
Congratulations to all of our STEM students who continue to innovate while earning certifications along the way that will greatly benefit them in the future!
STEM sign added to front of gym just weeks ahead of grand opening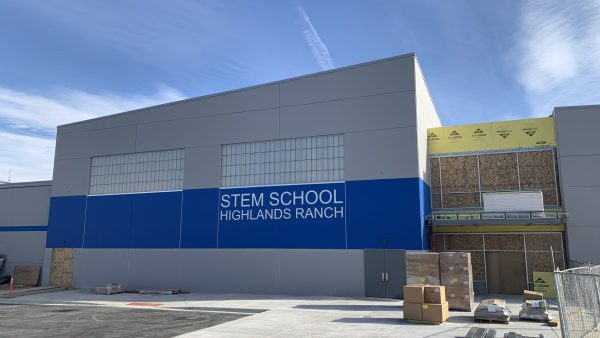 STEM Kindergarteners come up with innovative solutions to severe weather threats as part of PBL unit
The severe weather changes that the world has seen over the years prompted STEM Kindergarteners to come up with conceptual ideas that would help people, plants or animals with the environmental threats facing the world today.
Lucas came up with the idea of a self-cooled chicken house. The innovation would save the chickens from extreme heat. The top has a solar panel that connects to a fan and blows cool air to relieve the chickens.
Hana developed a recycling campaign to save polar bears. She was motivated to do something after learning that the polar bears will cease to exist unless something is done to preserve their habitat. Her solution for that is to get people to recycle more.
Ellis wants to save dogs and other pets from house fires. The dog collar concept he designed has a GPS locator/sensor in it that alerts the fire department of the animal's location in the house.
Ayira created the Shade-o-vator. It's a solar-powered robot that provides shade everywhere it goes for both dogs and humans.
Alexander built a model for his idea to protect pear trees. It's a greenhouse to protect the pear tree. There is water and a fence to separate the trees and it has a solar panel for energy and a hose to distribute water to the trees.
Other Kindergarteners wanted to help the homeless during severe weather conditions. Several students donated gloves, hats and hand warmers while other students made blankets to donate to homeless shelters.
A PBL unit that is innovative, addresses a current real-world problem and also gives back to the community. It doesn't get much better than that. Great job to all of our STEM Kindergarteners!
Mischievous elves deliver treats and joy to STEM staff
Room service! The Elf Admin Coffee and Treat Cart made its way around the school and our elves had a lot of fun bringing joy and smiles to STEM staff along the way. One elf in particular put on an impromptu hallway show with a hula hoop, much to the entertainment of STEM students passing by!
Thank you STEM Admin team and volunteers for delivering the treats to our hard working staff, who are busy with wrapping up the last week before break.
Extra coffee is always welcome!